At least six people were injured when a small plane landed on a bridge in Miami Saturday afternoon, colliding with at least one car and bursting into flames.
The plane crashed just before 1 p.m. on the Holover Inlet Bridge, near the 10800 block of Collins Street. Smoke from the wreckage can be seen for miles.
FAA officials said there were three people aboard the single-engine Cessna 172 when it lost engine power and crashed, colliding with a vehicle with three people on board.
At least six people were taken to hospital when a small plane caught fire after hitting a bridge in Miami on Saturday afternoon.
When rescue teams responded, officials said, they found the plane on fire and quickly put out the flames.
Fire rescue officials said there were six injured, including two who were taken to a local hospital as shock alerts. One was flown to the Ryder Trauma Center at Jackson Memorial Hospital and the other was flown on the ground to Jackson North Medical Center.
Three other patients suffered non-life-threatening injuries. The condition of the sixth patient was not known.
Footage from the scene showed the wreckage of the plane in the middle of the road. The vehicle in question, which has a dark red or dark red four-wheel drive, can be seen with extensive damage to the front of the vehicle.
Officials have not revealed the identity of anyone involved.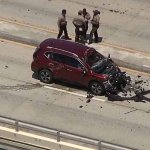 Federal Aviation Administration officials said the plane had taken off from Fort Lauderdale International Airport and was heading to Key West International Airport.
The Holover Inlet Bridge located on Collins Avenue between Sunny Isles Beach and Bal Harbor has been closed, according to authorities. Southbound Collins Avenue is closed at 158th Street.
Traffic was diverted, drivers were advised to look for an alternative route and expect significant delays.
Officials said the Environmental Resources Department was notified of the fuel run-off from the plane.
The Federal Aviation Administration and the National Transportation Safety Board will investigate the accident.
This is an evolving story. Check again for updates.