[ad_1]

Minneapolis (Fox 9) – While there is some uncertainty about our overall severe risks due to clouds and lingering morning showers, there is still a high probability of severe weather late Monday across Minnesota with the potential for isolated strong tornadoes, along with winds of over 75 miles per hour. The clock is very cold.
The Twin Cities metro is now under level 3 danger due to significant hail, damaging winds and isolated tornadoes, while large parts of central and western Minnesota face level 4 danger, including a hurricane threat. Storms will begin to develop into northeastern South Dakota and southwestern Minnesota on Monday afternoon and move quickly toward the northeast.
Late morning to midday brings calm for the crucial few hours the atmosphere needs to recharge the grueling weather late Monday. The longer the clouds last, the lower our potentially severe risks. For now, severe storms are still on track.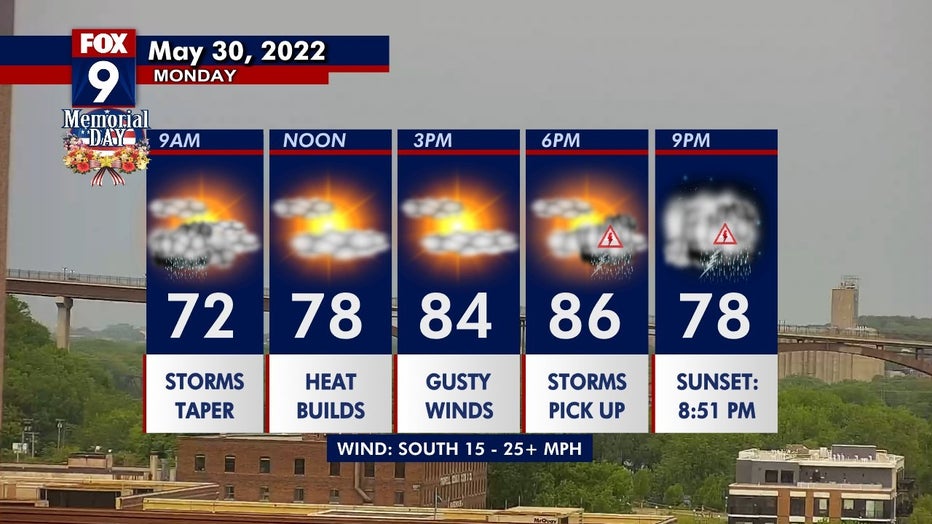 Memorial Day weather forecast for the Twin Cities metro.
Stay safe with FOX 9 Weather app
Stay informed through Memorial Day storms with the FOX 9 Weather app. Whether you're staying in one place or traveling, turn on your GPS locator and turn on notifications. If you drive on a warning, you will receive an alert specific to your whereabouts. Download Apple | Download Android
Overnight and Monday morning storms
At 2 a.m., tornado warnings piled up along Minnesota and South Dakota as powerful storms began to burn. The storms headed to northeastern Europe over the next 6 hours. FOX 9 storm chaser Tim Borrington reports High winds broke the roof of his hotel in Sioux Falls, South Dakota.
At 3:30 a.m., the Renville County Emergency Manager reported severe thunderstorms that pushed a bean onto Highway 212 near the Sacred Heart, blocking the road.
At 4 a.m. to 5 a.m., winds of 65 mph were reported from Sauk Center to St. These storms then swept toward Little Falls and Mora, with winds of up to 70 mph as the storm moved northeast through Carleton, Douglas, Payne and St. Louis counties.
precipitation totals
A look at some of the precipitation totals (inches) for Memorial Day as of 8 a.m.
Alexandria: 2.4
Grand Rapids: 1.93
Pumping: 1.84
Kimball: 0.67
Mankato: 0.55
New Ulm: 0.50
Wilmar: 0.47
Morning storm
Here's a look at some of the wind gusts recorded during the night and early morning storms in Minnesota.
Olivia: 84 mph
Sock Center: 65 MPH
St. Cloud: 65 mph
North Redwood: 61 mph
Rice: 60 mph
Stay aware of the sky while cleaning damage
After sunrise, the city of Marshall in southwestern Minnesota reported downed trees and power lines after straight line winds of 70 mph. The city reminded residents to stay aware of the weather while cleaning up storm damage as there is another risk of severe storms on Monday afternoon.
Memorial Day camping cut short
Outside of Hudson, Wisconsin in Willow River State Park, many campers would pack early to avoid any danger.
"Everything is made of metal and cloth, so you don't know what will fall and damage your stuff or what is really safe," said one of the camper. "I don't even know where the shelters are or if there are shelters in this area."
Related: Lightning may be responsible for two fires in northern Minnesota
While the likelihood of severe storms Sunday night decreased by the end of the day, Monday's hurricane risks packed many people.
"That's a bit of a bargain," said another camper. "A hurricane is a little worse than just rain."


[ad_2]